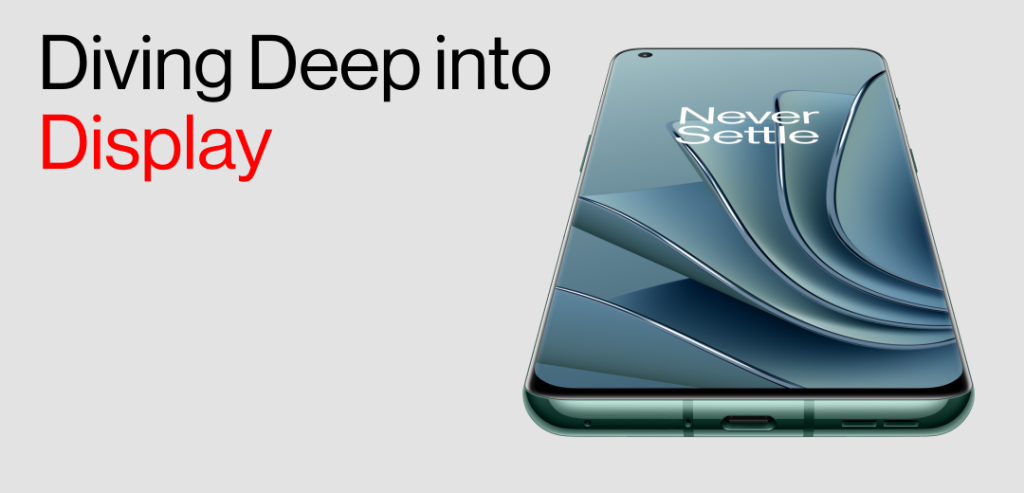 Hello Kenyan OnePlus users,
The OnePlus 10 Pro was finally launched yesterday (8th April) in Kenya and Uganda. In light of what was a successful launch , we've dived deep into all the components and features that allow the device to deliver industry-leading fast and smooth performance.
We've also given you an in-depth look at its second-generation Hasselblad Camera for Mobile, complete with support for OnePlus Billion Color Solution. Now, we want to tell you a bit more about the OnePlus 10 Pro's display and why we believe it offers one of the best viewing experiences ever on a mobile device.
The OnePlus 10 Pro comes with a 6.7-inch QHD+ Fluid AMOLED display with a 120 Hz refresh rate. Beyond sheer specs, the OnePlus 10 Pro's display boasts three key features – second-generation LTPO technology, Dual Color Calibration, and AI Adaptive Brightness – that truly make this the best display ever on a OnePlus smartphone. Let's get into them.
Second-Generation LTPO Technology
You might remember we introduced LTPO (or low-temperature polycrystalline oxide) technology on the OnePlus 9 Pro last year. The primary benefit of LTPO technology is that it allows a display to dynamically adjust its refresh rate based on the type of content you're consuming for improved power efficiency. This means if you're scrolling through social media, LTPO technology will ensure you enjoy a silky smooth 120 Hz experience.
However, if you're viewing photos sent to you by friends or family, the display itself is static and therefore you'll have the same viewing experience whether the display is set to 120 Hz or 1 Hz. Lowering the refresh rate of a display when you don't need a high refresh rate can save significant power, allowing you to use your device longer between charges.
The OnePlus 10 Pro comes with an upgraded LTPO display, complete with new optimizations that allow its refresh rate to dynamically adjust between 120 Hz and 1 Hz depending on the type of content being consumed even faster than the OnePlus 9 Pro. The result? The OnePlus 10 Pro's display is even more power-efficient than that of the OnePlus 9 Pro. In fact, the device's display is more power-efficient than fixed 90 Hz displays on other smartphones.
Power efficiency is taken to the next level with a 1 Hz always-on display (AOD) that is made possible by the OnePlus 10 Pro's improved LTPO technology. Traditionally, AODs run at 30 Hz, meaning the OnePlus 10 Pro's 1 Hz AOD options provide a convenient way to see key information at a glance and do so while consuming 30% less power.
Dual Color Calibration
Traditionally, smartphones have their display colors calibrated to one specific level of brightness, meaning if you greatly increase or reduce brightness, colors can appear less accurate than intended.
The OnePlus 10 Pro is the first phone in the industry to come with Dual Color Calibration, meaning its display has been calibrated to deliver accurate, natural colors at two levels of brightness – 100 nits and 500 nits. Dual Color Calibration results in 50% greater color accuracy when viewing the OnePlus 10 Pro's display at low brightness. In other words, the OnePlus 10 Pro's display will look exactly how it was calibrated to look more often than other devices out there.
AI Adaptive Brightness
AI Adaptive Brightness allows the OnePlus 10 Pro to learn your display brightness preferences and automatically adjust brightness accordingly. That means if you typically adjust your display brightness to higher than the standard output, the OnePlus 10 Pro will begin to automatically increase its display brightness in different scenarios to fit your preference.
Everything Else
The OnePlus 10 Pro's display supports other notable features that are present on previous OnePlus phones and remain incredible here. First, the device supports Nature Tone Display that adjusts white balance automatically depending on what ambient light surrounds you and the device. The main purpose of Nature Tone Display is to deliver a more comfortable viewing experience.
You also have Super Video Resolution which lets you take advantage of the OnePlus 10 Pro's large, high-resolution display even when watching videos in resolutions lower than 720p. Super Video Resolution automatically enhances video quality by up to four times and is supported by popular apps like YouTube and Instagram. You can enable Super Video Resolution by enabling 'Image Sharpener' in the OnePlus 10 Pro's display settings.
So, there you have it – a bunch of awesome features that take the OnePlus 10 Pro's display to the next level. We can't wait for you to experience the OnePlus 10 Pro's display yourself.
Never Settle.