Hey everyone,
While we had already (not) leaked the official spec sheet (and the looks), a smartphone is so much more than just a list of components. Today, with the official launch of the OnePlus 10 Pro in Kenya, we shed some light on what makes the OnePlus 10 Pro a truly well-rounded flagship experience, and, now we'd like to share it with you
For those looking for a TL;DR (Too Long, Didn't Read Summary) the OnePlus 10 Pro comes with a second-generation Hasselblad Camera for Mobile, complete with OnePlus Billion Color Solution, second-generation Hasselblad Pro Mode, and a new 150° ultra-wide camera. The OnePlus 10 Pro also boasts the fastest performance ever in a OnePlus phone thanks to the power of the Snapdragon® 8 Gen 1 Mobile Platform alongside up to 12 GB of LPDDR5 RAM.
The OnePlus 10 Pro also comes with the largest battery ever in a OnePlus phone and the most powerful charging in the form of 80W SUPERVOOC Flash Charge. Good? Let's get down to the nitty-gritty.
Second-Generation Hasselblad Camera for Mobile
The second-generation Hasselblad Camera for Mobile present on the OnePlus 10 is the result of everything we learned so far from our collaboration with Hasselblad. It supports OnePlus Billion Color Solution that allows Natural Color Calibration with Hasselblad to be applied to over one billion colors. Yes, now all 10 Pro's three rear cameras – the main, telephoto, and ultra-wide camera – are capable of shooting in full 10-bit color.
We also took Hasselblad Pro Mode to the next level: You can now capture photos in 12-bit RAW on all three rear cameras, complete with Hasselblad Natural Color Solution. Hasselblad Pro Mode on the OnePlus 10 Pro also features a new, empowered RAW mode called RAW+ that allows you to shoot in 12-bit RAW while retaining all OnePlus computational photography elements.
The OnePlus 10 Pro also features Movie Mode, letting you adjust the likes of ISO, shutter speed, and white balance before and during filming. Movie Mode also supports capture in a LOG format without a pre-set picture profile, providing videographers in our Community with a blank canvas for editing.
The OnePlus 10 Pro's camera system also sports a new ultra-wide camera offering a 150° field of view. The increased field of view encourages creativity and lets you capture more in each shot. The OnePlus 10 Pro's ultra-wide camera also supports a new Fisheye Mode that lets you capture photos in an entirely new perspective. Not to worry, though, by default, the ultra-wide camera takes photos with a more traditional 110° field of view, complete with AI distortion correction.
For those of you wanting to know a little more about the camera, be sure to check out our Deep Dive here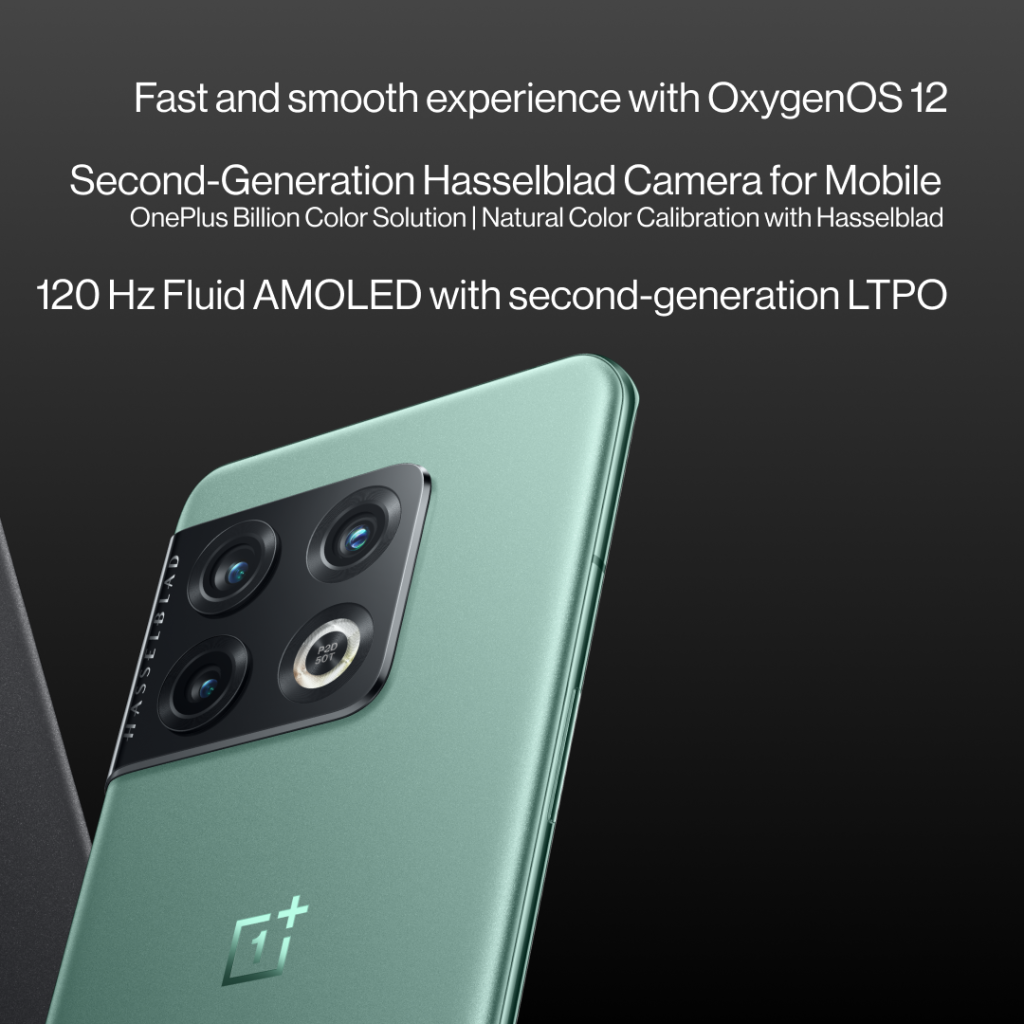 OnePlus 10 Pro Display
The display experience has always been a major focus of the OnePlus flagship experience and the OnePlus 10 Pro is no exception. The 6.7" QHD+ panel – complete with a 120 Hz refresh rate – features second-generation LTPO technology.
This allows the device to adjust its refresh rate between 1 Hz and 120 Hz based on the content being displayed even faster than on the OnePlus 9 Pro. As a result, the OnePlus 10 Pro's display consumes less power than 120 Hz and 90 Hz displays on other smartphones.
The OnePlus 10 Pro's display is also the first in the industry with Dual Color Calibration, meaning its display has been calibrated to deliver accurate, natural colors at two different levels of brightness – high and low. Dual Color Calibration ensures the OnePlus 10 Pro's display shows accurate and natural colors more consistently no matter how bright or dim the display is.
Software
In Kenya, the 10 Pro comes pre-installed with OxygenOS 12 based on Android 12. You can find more information on OxygenOS 12 in Kenya on our blog post by clicking here
Fast and Smooth Performance
The 10 Pro, of course, delivers the fastest and smoothest performance on a OnePlus phone ever. That's all made possible by the Snapdragon 8 Gen 1 Mobile Platform with a 7th Gen Qualcomm® AI Engine that is four times faster than its predecessor and a re-architected Qualcomm Adreno GPU that is 25% more efficient.
The Snapdragon 8 Gen 1 Mobile Platform also boasts a 4th Gen Snapdragon X65 – the world's first 10 Gigabit 5G Modem-RF solution – that supports more networks, frequencies, and bandwidths than ever before. Coupled with the super-fast Snapdragon 8 Gen 1 Mobile Platform is up to 12 GB of LPDDR5 RAM and up to 256 GB of UFS 3.1 two-lane storage for faster, more efficient performance.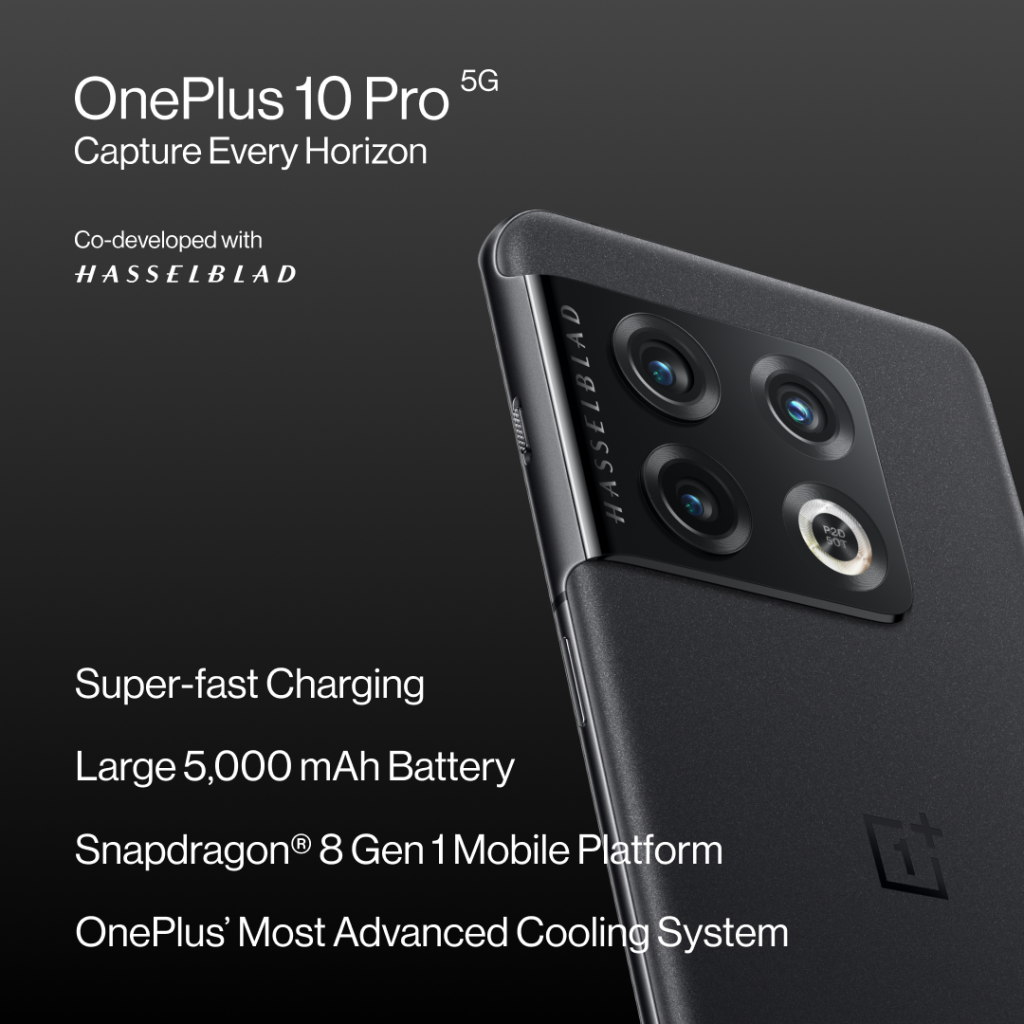 SUPERVOOC
The OnePlus 10 Pro supports the fastest charging ever in a OnePlus phone – 80W SUPERVOOC Flash Charge – that can power its huge 5,000 mAh battery from 1-100% in just 32 minutes. The 10 Pro also supports 50W AirVOOC Wireless Flash Charge that takes the device from 1-100% in 47 minutes. Yes, an 80W charging brick and accompanying USB-C cable are included in the OnePlus 10 Pro box, and yes, the cable is still red.
You also don't need to worry if you already have Warp Charge accessories. They will still work with your OnePlus 10 Pro.
Price and Availability
The OnePlus 10 Pro is available and on sale in Kenya starting today (on April 8). The device will launch globally on April 15th. Stay tuned to our blog to know more!
Click here to watch the OnePlus 10 Pro Launch Event