OnePlus SUPERVOOC 80W Power Adapter

80W MAX Super Flash Charge | Multi-protocol Compatibility | Safety Protection
Accelerated charging speed

The new SUPERVOOC Super Flash Charge technology delivers 80W MAX of charging power. Charges the OnePlus 10 Pro 5G to 50% in 12 minutes and 100% in 32 minutes.
Available for traveling abroad
Supports AC100-240V for a wide range of voltage input and is convenient for travel. Note: When used in other countries, it requires an adapter for that particular country.
We care about speed, and safety more
The casing is made of UL95-V0 grade material, for high-temperature resistance that is safe and reliable. Built-in intelligent control chip that measures the temperature 25 times per second. It can dynamically adjust the output power to prevent excessive temperature.
10-layered protection for peace in mind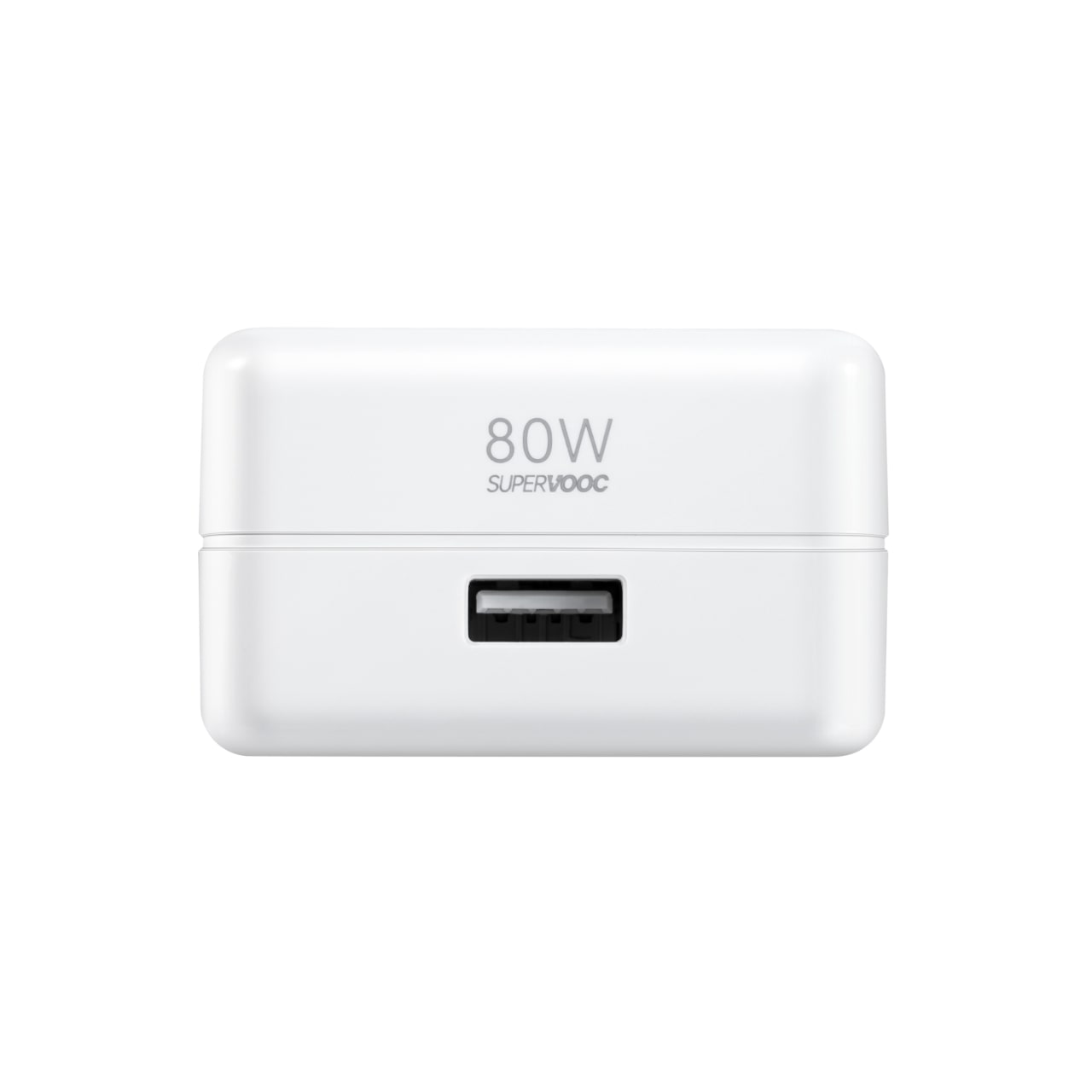 A genuine One Plus official product that is focused on safety.
Constructed with 10 layers of safety protection, adding greater security to efficient charging.
Over-voltage protection // Over-temperature protection // Over-current protection // Short-circuit protection // Electromagnetic field protection
Lightning protection//Static protection // Under-voltage protection // Circuit protection against abnormal impedance
OnePlus data cable detection protection
Note
1. The OnePlus SUPERVOOC 80W Power Adapter is fully backward-compatible with previous OnePlus smartphones, the power output depends on the device the charger is connected to. For other brands phones,the maximum output power is 10W.
2. Results are taken from official OnePlus tests under lab conditions. Actual figures may vary in real-life usage.
3. Do not place this product near fire or other heat sources.
4. Do not use the power adapter to charge the device outdoors.
5. Do not disassemble, squeeze, puncture, modify this product or immerse it in water, and do not touch the charger, wires and power sockets with wet hands when charging.
6. Please keep the product away from children, and unplug the product from the power outlet after you have finished charging.
7. This product requires a SUPERVOOC-compliant phone and data cable to enjoy the Super Fast Charging or Fast Charging functions.
8. Please charge together with the official OnePlus SUPERVOOC Type-A to Type-C Cable, charging cable sold separately.
Compatibility
SUPERVOOC/Warp Charge 80W: OnePlus 10 Pro / 10T / 10R / Nord 2T
SUPERVOOC/Warp Charge 65W: OnePlus 9 Pro / 9RT / 9 / 9R / 8T / Nord 2 / Nord CE 2
SUPERVOOC/Warp Charge 33W: OnePlus Nord CE 2 Lite
SUPERVOOC/Warp Charge 30W: OnePlus 8 Pro / 8 / 7 Pro / 7T Pro / 7T / Nord
Fast Charge: OnePlus 3 / 3T / 5 / 5T / 6 / 6T / 7